DomoGeo provides affordable, quality, eco-friendly modular structures that are easy to install and can be used for multiple purposes.
Our inclusive business model caters to a mixed client base with different requirements. Our approach is commercial, but we achieve significant social impact by integrating:
– a "high touch, high value" low-income customer base that requires financing, awareness outreach, and income-generation; and
– a "low touch, high return" middle-class and institutional client base that delivers high operating margins
1. Modularity, Flexibility + Ease of Construction
Our flexible designs and modular structures can be incrementally built and used as:
– extensions to existing buildings
– mix-use and commercial spaces that generate income
– dormitories and work-force housing
– roof-top terraces in metro areas
– eco-villas for tourism
2. Affordability
Our innovative, sustainable technology reduces construction cost by 20% + and building time by 80%. Our designs support incremental build and home-based micro enterprises, so the place can pay for itself.
3. Quality
We use durable, sustainable, modular components made of engineered composites that adhere to safe building standards, are fire retardant, and can withstand winds of 127mph and earthquakes of 8.5. Unlike traditional cement and brick, our construction technology uses minimal water, leverages renewable resources and preserves fertile earth.
4. Integrated Financing
For low-income families, our unique financing product, offered through partner financial institutions (FIs), provides 1-3 year loans (and gains entry to a 7.8 million customer base in India and Bangladesh alone).
To learn more about each client base, and the innovative solutions we provide, see the tabs below.
The Context
Never before in history has the world witnessed such a rapid growth in urbanization. With 1 billion people living in substandard housing, and thousands joining them every day, we are sitting on a social time bomb. In India and Bangladesh alone, 108 million houses are built from temporary materials, and there is an additional housing shortage of 32 million — predicted to double by 2030. Real estate developers, governments and NGOs cannot scale to fill this gap.
In the developing world, decent, affordable housing and productivity are inextricably linked. Manufacturing companies, mining companies, NGOs, and small to medium size builders need to speedily build cheaper, safer, healthier workplaces, housing or workforce accommodation to grow their businesses. We can provide them.
The working poor also need cheaper, safer, healthier places to work and live. We can provide them. Most of our individual target market families are currently living in self-built, substandard housing without access to clean water or sanitation, and often in severely overcrowded conditions. All of this leads to greater disease, loss in productivity and lower income; perpetuating the cycle of poverty and vulnerability from generation to generation. Based on UN figures, substandard housing in South Asia costs $50 billion annually in disease, loss of productivity and income.
DomoGeo can help both individuals and institutional clients secure a place to work, live and make money.
Our Housing Offering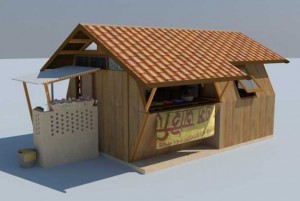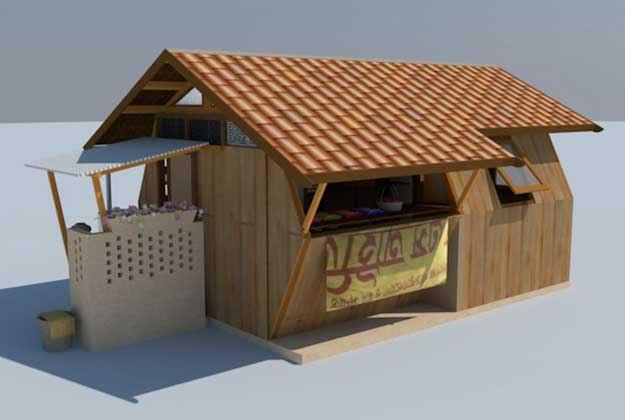 Our component based, modular houses, dormitories and extensions are made of sustainable materials and have the following features:
Affordability: just $10/sq. ft, with aggressive goals to reduce that cost to $5/sq. ft. for our basic model
Durability: 25+ year life span, based on testing at Hunan University. Fire-retardant, withstands 127 mph winds and 8.5 Richter earthquakes
Customization: individual and cultural customization of design to local needs and aesthetics,
Installation: easy to assemble, maintain, disassemble and transport. Assembly of a basic house takes 2-4 days with a maximum of four unskilled people
Expandable: modular in design so units can be horizontally or vertically expanded over time
Sustainable: Minimal impact to the environment through usage of eco-friendly and sustainable materials (e.g., sustainable timber, laminated bamboo). Significantly less water used than in traditional brick-and-mortar construction; lighter component dramatically reduce transportation load
Preventative healthcare: integrated water catchment and filtration system; mosquito netting; ventilation and light. Optional solar cookstove and sanitation facilities
Our Institutional Clients
We serve a variety of institutional clients that are seeking to speedily build quality, affordable, safe, durable and healthy structures. Manufacturing companies, mining companies, NGOs, garment factories, and small to medium-sized builders can use our modular designs to provide to be used as workplaces, workforce accommodation, housing or housing extensions.
Our Individual Clients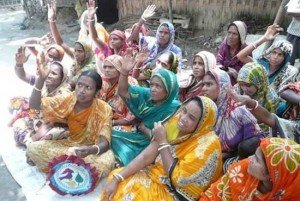 Our preliminary target customer base consists of low to middle income periurban families who are making $5-15/day. They are employed (waged or semi-formal) and have an existing relationship within an MFI, or have credit history with a financial institution. They want to generate income and accumulate assets. They want to incrementally build their home. They don't want long-term loans and over indebtedness. They want a multi-purpose house, where they can generate income from the use of home so that they will minimize the net new spend on housing.
Our customizable and portable multi-purpose designs provide dwelling spaces that can be constructed as vertical extensions on existing homes, or as freestanding houses. They are designed to accommodate home-based microenterprise and rental activity. This integrated multi-purpose design enables the home to self-finance itself through additional income. Our vision is to drive our costs down to $5/sq. ft., making it possible for working families to buy a quality, sustainable, $500 house.
DomoGeo can double the disposable income of a hard-working family and significantly accelerate their asset-building rate in just four years.
Our Integrated Financing
DomoGeo aims to lower the major financing and affordability obstacles through:
Smaller loan amounts and shorter repayment period of 1-3 years; increasing customer affordability; eliminating MFI asset/liability mismatch; reducing default risk associated with long term housing loans,
Complete control over the dwelling standards through modular construction. This minimizes technical assistance requirements for MFIs, other financing institutions and NGOs during the building process; minimizes associated operating costs; and maximizes the economic, social and healthcare benefits through consistent implementation of the unique housing design,
The modular house itself acting as collateral; creating alternative collateral structures through cash-flow based credit risk assessment; eliminating the need for land titles; using savings and insurance programs to handle defaults and only at extreme cases executing the default collateral policy.
Self-financing loans through a) rental income generated by leasing a modular unit, for commercial or residential purposes, b) lowering the housing maintenance costs related to the home-based business, c) providing additional space to expand the home-based business or coupling the housing loan with an income generating business loan.
The Social Impact We Offer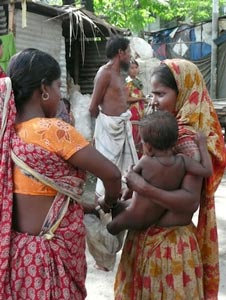 DomoGeo's housing solution makes economic, social and environmental sense because it:
allows institutional clients to speedily construct safe, healthy workplaces or workforce housing. This results in improved worker safety, health, satisfaction and productivity, and global brand recognition as a socially responsible organization
fills the gap between affordable housing and low-risk housing micro finance for low-income families
increases the wealth of the individual client's household through self-financing assets and income-generating business opportunities
serves as a preventative healthcare measure for all who live and/or work in our structures, due to integrated clean water/sanitation facilities and improves the productivity of the household
creates jobs throughout our value chain
strengthens participating financing institutions' portfolios as well as their social impact
significantly reduces the environmental impact of housing over traditional brick-and-mortar construction methods
On top of that, our social impact investors receive attractive returns, coupled with deep social impact, through high volume sales in a scalable venture. Our timelines and capital requirements are a fraction of traditional real estate development companies.