The Singapore Biennale opened one week ago, and we're so excited by the buzz that DomoGeo's architect and Product Development guru, Eko Prawoto, is generating that we just have to share.
designboom, which bills itself as the world's first web-based art, architecture and design magazine, has some great photos of Eko's Wormhole installation, including a fabulous interior shot that helps those of us not in Singapore imagine what it's like to walk through the conical bamboo structures.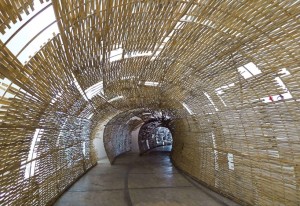 But what's really cool is the press around Eko's approach to architecture, design and community in the developing world—something dear to our hearts here at DomoGeo.
The Jakarta Globe has a great feature about Eko's approach to art and architecture, and goes into detail about Eko's award-winning work rebuilding the Indonesian village of Ngibikan, which was destroyed in the 2006 Yogyakarta earthquake. A quote from the paper:
Eko said that after the earthquake, outsiders looking at the situation might have had one thought only: everything is gone. But at second glance, the picture looked quite different.
"It was only physical," he explained. "The social capital and structure was still there, the people's knowledge, their skills, their culture. And I thought it was important to start the reconstruction from what was already there…
"We used available materials, like their old doors and windows, and all the people's creativity could be [channeled into finishing] their new homes," Eko said. "Sometimes, to design is to reactivate or to rediscover what is already there."
Working with natural materials like bamboo and straw isn't new to Eko, and involving communities in his projects isn't either.
"I am only a tiny part of the whole process," Eko said. "I actually believe that the process is more interesting than the result because it's showing how human beings interrelate with one another and exchange ideas."
Local Singapore publication Today also dives into Eko's aesthetic, known as "gotong royong", or the spirit of cooperation between communities. Eko says he learned this approach back in 2004, when foreign relief organizations rushed into Aceh after the devastating tsunami and began building single-family houses.
"What these organisations did not do, however, was take time to engage the community and find out that the people preferred their long-standing custom of half a dozen families or more living in one building. As a result, the tiny new houses remained empty…
Rather than simply rushing in to help rapidly build new houses [in 2006], Prof Prawoto invited the community to participate in the planning and ended up radically changing his own plans after taking the time to listen. Instead of building stronger concrete structures as he had intended, his team used wood or other local materials and even redesigned windows and bathrooms to fit the styles that people preferred.
"It is very important to learn from them … (to) not only invite them to participate, but also to change our concept. Sometimes we do not have the courage to do that; we impose ideas instead," Prof Prawoto said. This focus on community involvement rather than dictating a solution is a large part of what led to his nomination for the prestigious Aga Khan Architecture Award."
It's also a large part of why Eko is working with DomoGeo. Our CEO and founder, Hasan Alemdar, spent two years living in periurban Asia getting to know its people and their preferences before beginning the design process on our houses. And his understanding of their needs and wants led him to realize that a house wasn't enough: which is why we offer income-generating houses that are coupled with affordable financing.